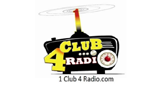 1 Club 4 Radio
Country:
Ireland
Broadcasting 24/7/365, 1 Club 4 Radio is Ireland's online Radio Network. All the hits & misses from the Soundtrack of your life! We play all the hits and misses from the 1990s way back to the 1950s so kick back and tune into a classic.
1 Club 4 Radio reviews :
No reviews added yet. Be the first to add a review for the station.
Leave a review